For the best variety of comfortable, affordable and well located Myoko accommodation in Myoko Kogen Village, Akakura Onsen, Akakan Resort (Akakura Kanko), Madarao Kogen (inc. Tangram), Seki Onsen, Myoko Suginohara, Ikenotaira Onsen, Tsubame Onsen and surrounds – Myoko hotels, pension, traditional inns, ski lodges, cabins, b&b and/or ryokan – you have come to the right place.
Myoko Accommodation & Myoko Hotels
"Thank you for all your organisation, this was a perfect place and my kids and I had a fantastic time in Myoko skiing and staying at the super friendly Sun Hotel, great choice." Shane P
Myoko accommodation bookings by Destination Myoko Kogen
Destination Myoko Kogen offers by far the widest available range of Myoko accommodation and Myoko hotels reservations can easily be done online in English. Each page has its own hotel map so you can see exactly where the property you are booking lies in relation to local transport, resorts and services. We love working with the local hotel owners – we are happy to help them and help you too!
Find and book Myoko accommodation instantly via our secure travel booking site!
Through our registered Australian travel business (ABN 65823608916) we are now working with select Myoko hotels. Please send us your requirements via this Myoko accommodation booking form (at the bottom of the page).
Please note that Myoko Ski Resort is made up of several different areas (as listed above) and the establishments below are only a small fraction of the properties offered. For a full list of Myoko accommodation in the different areas of Myoko Kogen please use the links at the top of the page. If unsure of the area you are looking for check out our Myoko Kogen Area Guide or Myoko Maps page.
Other ways we can help you
Destination Myoko Kogen will not only help you book the best hotels and get the best price but we will also be able to assist with the following services:
Airport transfers;
Ski rentals;
Ski school;
Local tours & bus charter;
Resort transfers;
Lift tickets;
Back country, snow shoe and guided tours;
More information to come…
…just wanted to drop a line and thank you for all your help and contacts in Japan transfers to and from airport were seamless and and a great way to see the countryside. Had a great stay in Madarao..had a great day out in the backcountry with Aki on our 3 days. He showed us few safe slack country drops for us to hit up and enjoyed some great days out there with just our crew. Thanks again mate will be recommending you guys to all the people who ask me about Japan. Cheers Lyle C.
Myoko Booking Engine
Did you know that we have not only been the main port of call for Myoko information since 2003 but that we also offer a Myoko booking engine with over 60 choices of Myoko hotels? What are the benefits of booking online through us?
You can book immediately. No waiting to hear;
No deposit required (only credit card guarantee), so no excess FX charges;
Free cancellation (in most cases) up to 7 days beforehand.
Looking for Myoko accommodation options? Try our secure online Myoko booking engine!
How is your service different to others?
We are based here in Myoko Kogen (Akakura Onsen) with years of local knowledge;
We work only with a small group of local select hotels;
The local hotels we list get a better deal if you book with us rather than going through any others;
We do not direct visitors into certain accommodation to get better commissions;
We are available to you or your local hotel owner if you have any problems while you are here in Myoko;
You are directly supporting small local businesses/hotels.
Thanks for the great hospitality and knowledge in and around the area. Japan is awesome! Evan C
Myoko Accommodation: Featured places to stay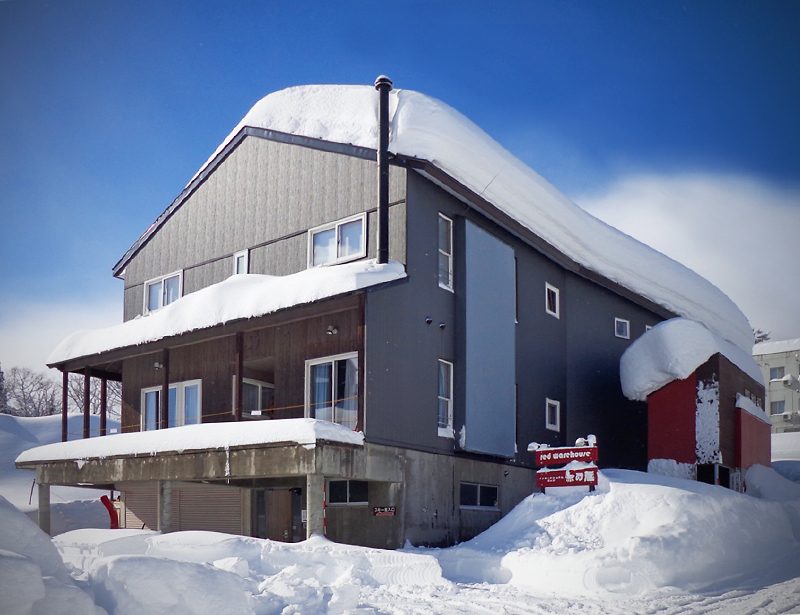 Red Warehouse in Akakura Onsen, Myoko is a family ski lodge with communal self contained facilities right in the heart of the ski village. The lodge is friendly Australian ski club style but with a Japanese twist. Red Warehouse family ski lodge enjoys a suberb ski in, location in Akakura Onsen, Myoko Kogen, just off the main street. It's a very short walk to restaurants, shuttle buses and ski schools/rentals yet only less than 3 minutes walk/ski to the ski lifts. There is a large communal living area with a pot belly stove fire and communal kitchen. A kids play area and games room/mini-theatre is available in the basement. Free wifi throughout.
Myoko Kogen accommodation:
Akakura, Akakura Kanko, Ikenotaira, Suginohara, Madarao & Seki Onsen

Hotel Kofukan / Ryokan Kofukan
This establishment near Myokokogen Station was opened in 2004 featuring large rooms with both Japanese and Western style Myoko accommodation available. It is only three minutes by free shuttle from Myokokogen station with wonderful relaxing hotsprings and a great view of Mt. Myoko. A free shuttle bus service is available to and from Suginohara ski field during the winter. Discount ski lift tickets are also available for purchase. Friendly service (in English), great food and reasonable tariff.
More Myoko Kogen accommodation & hotel options in the central Myoko Kogen town area here
Guest House Bunk (aka Bonku or Bonk) is a bright and clean pension style guesthouse located near the Akakan (Akakura Kanko) Resort ski lifts. Run by the friendly Sasahana-san, it is an ideal choice for families with a snow play area right alongside that is easily supervised. Enjoy the ambience of the lounge/dining area in front of a log fire with picture windows over forest and snowy fields. Read reviews for Guest House Bunk.
Check out more Akakan Ski Resort accommodation and lodging options here
The Akakura Wakui Hotel offers a choice of western or Japanese-style rooms to suit all types of groups. The hotel is operated by a well-known local family and features a plethora of local history and artworks to enjoy.
It is centrally located just a very short walk (see map) from the lifts at Akakura Onsen Ski Resort. The hotel has onsen/hot springs onsite for a relaxing post-ski experience. An excellent choice of Akakura accommodation with English speaking host. Get a quote or check Akakura Wakui Hotel ratings
Check out more Akakura Onsen accommodation and Akakura Hotel options here
S
oratobu Usagi Myoko in Myoko Suginohara Ski Area is very popular Myoko accommodation, offers comfortable and affordable accommodation and even got a mention in Qantas Travel Insider. The location is fantastic, right in the middle of the Myoko Suginohara ski area trails, with one of the chairlifts going almost past the window. There's a restaurant, ski rental, common bath and internet access. They also have some self-contained accommodation which would be ideal for a family or small group of friends.
Check out more Myoko Suginohara accommodation, pension and hotel options here
Uguisu no Hatsune Ryokan is a traditional style inn located in the popular Seki Onsen Ski Resort area of Myoko. This ryokan provides an open-air onsen with natural red hot spring water. Ski-drying room & internet connection available. Long-term guests are welcome & major credit cards. Read or leave a review of Uguisu no Hatsune Ryokan here
Check out more Seki Onsen accommodation and hotel options here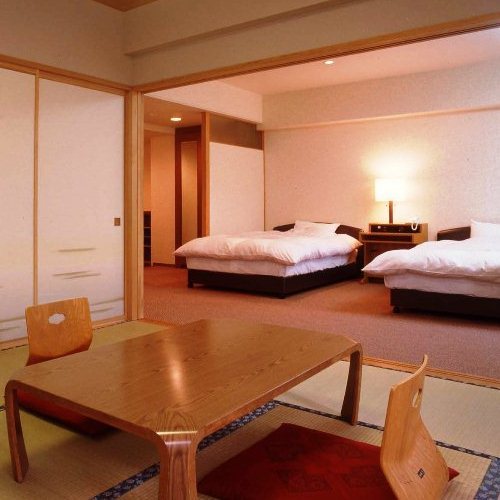 Hotel Alpenblick in Ikenotaira Onsen enjoys an ideal ski-in location adjacent to the Ikenotaira ski area chairlifts and next to the Myoko Kogen Beer Hall (Tatra Kan). There is a great onsen within the hotel with refreshing and unique black mineral spring waters. Ten minutes by car from Myokokogen station or collection from the station can be arranged. Ski hire and ski school on site.
Check out more Ikenotaira Onsen accommodation and pension options here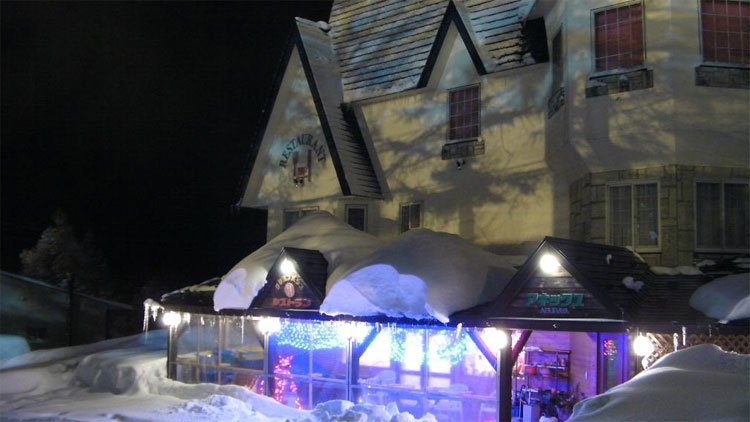 Only a 1-minute walk from the Madarao Kogen ski lifts, the lovely Annex Aburaya boasts a hot public bath and ski gear rentals. The Aburaya offers both Western rooms and Japanese-style rooms. All rooms have air conditioning, heating and an attached toilet, while bathing facilities are shared. Free Wi-Fi is available at the dining room, and a free-use washing machine is on-site. Discounted lift passes are available at the reception of this Madarao accommodation and equipment rental is also available at low cost.
Check out more Madarao Kogen accommodation, inn and hotel options here
Tsubame Highland Hotel in Tsubame Onsen (high above Seki Onsen) has both Japanese and Western style accommodation available and is surrounded in seclusion by the deep forests and beautiful mountains of the Myoko Plateau. It is the perfect place for relaxing, hiking, trekking and skiing. To get to Akakura Ski Resort you can ski or snowboard down directly From Tsubame Onsen. The hotel can arrange a later free pick-up by snow tractor.
Check out more Tsubame Onsen & Seki Onsen accommodation and hotel options here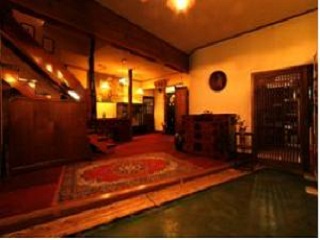 Park Lodge Sekine is a traditional style family run Ikenotaira Onsen inn located in an historic former brewery building. Guests can feel like they have stepped into a time gone past but still with modern touches such as modern toilets and free wi-fi. Each room is traditional style fitted with tatami flooring and futon mattresses. Bathroom (with natural onsen) and toilets are shared. An enjoyable and filling fresh homemade meal is available each evening in the large dining room featuring local specialties. A unique choice of Myoko accommodation. Get a quote or check reviews for Park Lodge Sekine
Check out more unique Myoko accommodation options here
Looking for budget Myoko accommodation? The Myoko Backpackers site offers a great range of Myoko hostels, backpackers, minshuku, guesthouse and other cheap Myoko accommodation options for those on a budget.
Check out more Myoko budget accommodation, hostel and backpacker options here
Akakura Kanko Hotel in Akakan Resort
The Akakura Kanko Hotel is the most famous of all Myoko Kogen hotels (see photo above) and is regarded as a Japan ski industry icon. The hotel was built in 1937 and still retains its sense of history. This classic European style hotel, the first of it's kind in Japan, is perched 1000 metres high on the slopes of Akakan ski area where one can ski in and ski out. There are 52 guest rooms in both Western and Japanese styles.
Expect a high standard of service and enjoy a hot spring on the balcony in the snow with a view reaching all the way to the Sea of Japan. The host of facilities at the Akakura Kanko Hotel include two different onsen (mineral hot springs), an indoor pool, two restaurants, as well as a lobby & lounge bars. Read/leave reviews of Akakura Kanko Hotel
Check out more Luxury Akakura Accommodation & Hotel options here
Myoko Accommodation Booking Links: Myoko Village – Suginosawa, Suginohara –Ikenotaira Onsen – Akakura Onsen – Shin-Akakura – Seki Onsen & Tsubame Onsen –Tangram and Madarao Kogen
Myoko Accommodation Request

Powered by

EMF
Survey Creator
Thanks for filling out the form. You can also book accommodation in Myoko Kogen, Madarao, Hakuba, Snow Monkeys, Nozawa Onsen, Nagano and many other places online with instant confirmation. Just go to http://secure.naganonow.com and fill in your dates and requirements.
Add comments about Myoko Accommodation, ask questions or join in discussion here at our Facebook page