Myoko Snow Report April 1 2018
Well, all good things must come to an end sometime. The fantastic season in Myoko (barring some unfortunate January rain events) will still be continuing with some lifts open at Akakan, Seki Onsen and Arai but most resorts are shutting up shop this weekend or otherwise very soon. So we're wrapping up our Myoko snow reports today so as to get some maintenance sorted on the site.
Resorts closing today are Ikenotaira, Suginohara, Tangram and Madarao Kogen. Akakura Onsen will stay open until next weekend (April 8th) whilst Seki Onsen, Arai and Akakan will run until early May (the latter with limited lifts).
Great big thanks to Dave, Robbo and all the rest of the awesome crew at Myoko Snowsports for their fantastic reporting and pictures this season.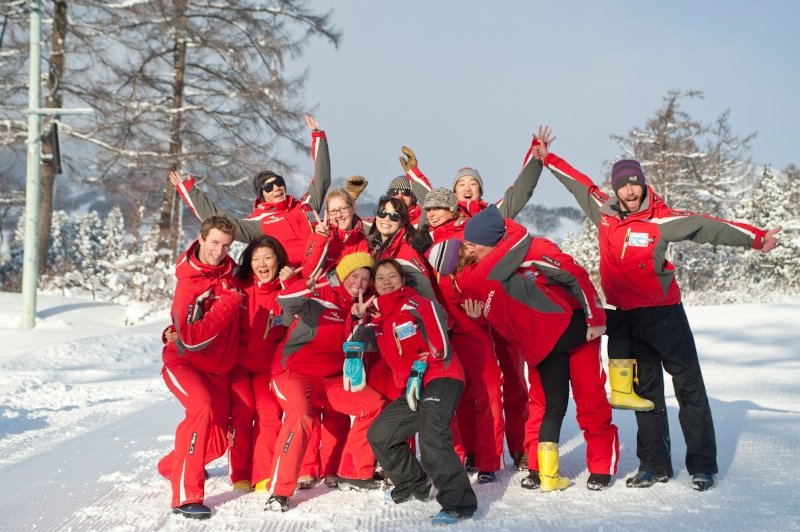 See a selection of some the best pics of this season at the Myoko Kogen Picture Gallery 2017/18.
Please note, we are already getting LOTS of enquiries for next season so if you need to book Myoko accommodation it's best to get cracking soon!
See you some time in November when we'll be back with some early information on 2018/19 Myoko resort opening dates and season outlook.
Myoko Snow Report April 1 2018: Current Conditions
Weather continues to be mild and sunny with a bit of haze and no fresh snow. Base is good with fresh corduroy in the morning, softening in the afternoon.
Myoko Snow Report April 1 2018: 24 Hour Recap
Bright and sunny. Reasonably cold yesterday which kept the snow in pretty good nick. Check out the video below taken in and around Ikenotaira Onsen
Myoko Snow Report April 1 2018: Weather Outlook
Mostly dry and very mild this week (with a max of 14°C on Tuesday morning). Winds will be generally light. Rain possibly on Wednesday with hope of some snow again on Friday night.
7 Day Outlook for Akakura Onsen Mountain Base, from Meteoblue
Mid-mountain forecast for the next few days from Snow-Forecast.com:
Current snow and weather conditions in Myoko now
24 Hr Snow Fall: 0cm
Current Snow Depth at Akakura Onsen base: 170cm
Current Snow Conditions: Firm in the morning
Current temperature at base: 3℃ @ 7am
Current Weather: Sunny
Current Visibility: Amazing
Don't forget to keep up with the snow progress via our Myoko webcams.
Myoko Snow Report April 1 2018: Current Snow Depth at Base
Myoko Snow Report 1 April 2018: Current Avalanche Danger
Don't forget! Got a great Myoko ski video from this season that you'd like to share? Upload your best efforts and then contact us with the details!
The Daily Myoko Kogen Snow Report is proudly presented by Myoko Snowsports, Red Warehouse Myoko and The Daily Flake
Myoko Snow Report April 1, 2018
Myoko Kogen Snow Report 1 April 2018
Myoko Snow & Weather Report 1 April 2018