"This resort just blew us away. Without a doubt, Akakan Ski Resort became the whole teams most favourite resort in Japan." World Snowboard Guide
Need a place to stay? Check out our Akakan Ski Resort accommodation guide and map
Akakan Ski Resort was first established in 1937 as Myoko Akakura Kanko Resort Ski Area. In recent years it has merged with it's neighbour Akakura Champion Ski Resort and is now known as Akakan Ski Resort but many locals still refer to it as "Shin-Akakura". These should not be confused with the neighbouring Akakura Onsen resort areas (watch for the signs that clearly delineate the two areas).  Lift tickets at Akakan Ski Resort will not cover Akakura Onsen but a joint lift ticket is available – ask your Akakan resort hotel for details.
Akakan Ski Resort, Akakura Kanko Ski Area
Akakan Ski Resort: An overview
The first thing you will notice upon arrival is the dominance of the Akakura Kanko Hotel – a large resort and spa hotel complex situated half way up the mountain. It was built in 1937 from a collaborative effort between Japanese and German interests, and making it Japan's first international standard mountain resort. There is more than one reason why some locals call it by the nickname "The Eagle's Nest."
Get the best Akakura Kanko ski accommodation deals instantly via the secure Myoko booking engine
The Akakan Ski Resort area provides a variety of runs for all levels of skiers, from beginners to experts as well as a kids park. The best runs are on Akakura Champion if you are intermediate or better, but with more than 13 metres of snow annually, you're guaranteed great skiing anywhere in this diverse ski area.
This large, snowy area consists of two main ski areas where you can enjoy a four kilometre run from the top of the hill at 1,500-metre-plus. Or you can do whatever else fits your skills and interests: powder skiing, bumps, trees, terrain parks, or just plain cruising. At the foot of the resort is a small onsen resort area with a collection of restaurants, pension and shops. From the slopes a grand panorama spreads out, offering beautiful views of Lake Nojiri and, in the distance, the Sea of Japan.
Need a place to stay? Check out our Akakan Ski Resort accommodation guide and map
Akakan Ski Resort: Stats
Longest Run: 4,500 metres
Terrain Parks: Yes
Back-country available: Yes
Elevation: 1,500 metres
Vertical Drop: 760 metres
Akakan Ski Resort: Ski Runs
Lifts: 1 gondola, 6 lifts
Trails: 10 (Beg: 48% Int: 37% Adv: 15%)
Akakan Lift Ticket Prices 2016-17
 Ticket
Adult
Child
Senior
Remarks
Half Day
2,900yen
2,000yen
2,300yen
Half day tickets valid 8:30-13:00 / 13:00 – Close
One Day
4,300yen
3,000yen
3,500yen
2 Days
7,600yen
5,200yen
5,800yen
3 Days
10,800yen
7,200yen
8,100yen
Spring skiing
2,500yen
1,500yen
2,000yen
Valid 23rd March 2017 – Season Close.
Resort Family Pack
 Ticket
Price
Remarks
Family (1 Adult + 1 Child)
5,500yen
Valid until 20March 2017
Family (2 adults + 1 Child)
(Extra child 2,200yen)
8,800yen
Other Tickets
|  Ticket |  Price |
| --- | --- |
| Season Pass (incl. Spring) | 50,000yen |
| Single use | 500yen |
| Single use (child) | 400yen |
| Sky Cable (single use) | 1,300yen |
| Sky Cable (single use, child) | 700yen |
| Preschoolers | Free |
Akakan Ski Resort: Course Maps
Akakan Ski Resort: Contact
Phone: 0255-87-2503 | Website (EN) Website (JP)
Akakan Ski Resort: Ski Schools (English speaking)
English speaking ski school and rentals are available at Myoko Snowsports in the Akakura Champion area. See here more more details.
Akakan Ski Resort: Ski and Snowboard Rentals (English speaking)
There are numerous ski rentals shops such as Myoko Snowsports & Aoyama Sports in Akakura Onsen. Many of the hotels, such as the nearby Guest House Bunk, also have ski rentals on-site. See here more more details.
Akakan Ski Resort: Access & Directions
Nearest station: Myoko Kogen Station on the Kita-Shinano line is less than ten minutes by taxi to Akakan Ski Resort. Also, shuttle buses run between Myoko Suginohara, Ikenotaira Onsen and Akakura Onsen ski resorts.
For more information on getting to Akakura Kanko Resort check here.
Airport shuttles to Akakan Resort
Book airports to Akakan ski resort here
Book inter-resort shuttles to/from Akakura Kanko Resort here
Book chartered bus services and shared taxis here.
Akakan Ski Resort: Access Map (English)
Akakura Kanko Ski Resort: Weather
Akakura Kanko Ski Resort: Webcams
Akakan Resort Webcam (top of the gondola)
Akakan Ski Resort Webcam (from Shin-Akakura Village)
Click here for more Myoko Web cams
Akakan Ski Resort : Ski Video
Places to stay near Akakura Ski Resort Ski Resort: Akakan Accommodation
Need a place to stay? Check out these establishments below and many more at our Akakan Ski Resort accommodation guide and map
Click on the links for further details, prices and availability.
Guest House Bunk (aka Bonku or Bonk) is a bright and clean guesthouse located near the Akakan ski resort area (Akakura Kanko) ski lifts. Run by the friendly Sasahana-san, it is an ideal choice for families with a snow play area right alongside that is easily supervised. The bright and airy rooms at Bunk Guest House are mostly
western-style rooms that can fit up to 4 people. All rooms have a flat-screen TV and feature free WiFi. Read reviews for Guest House Bunk, Myoko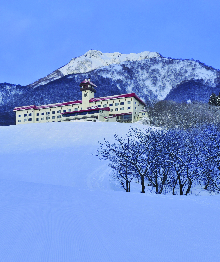 The Akakura Kanko Hotel is the most famous of all Myoko Kogen hotels and is regarded as a Japan ski industry icon. The hotel was built in 1937 and still retains its sense of history. This classic European style hotel, the first of it's kind in Japan, is perched 1000 metres high on the slopes of Akakan ski resort area where one can ski in and ski out. There are 52 guest rooms in
both Western and Japanese styles with a new extension being built. Expect a high standard of service and supberb views reaching all the way to the Sea of Japan. Guests at the Akakura Kanko Hotel can enjoy an onsen hot spring on the balcony in the snow. Spa treatments are available as well as private onsen bookings. Read or leave reviews of the Akakura Kanko Hotel.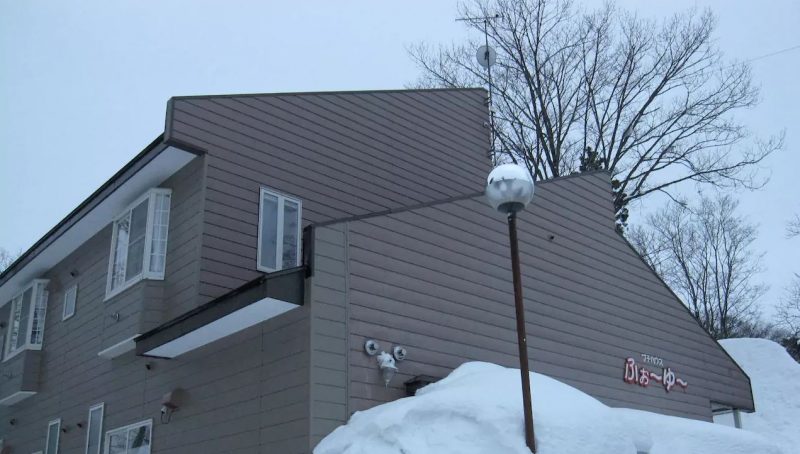 Pension Petit House For You (usually just known as 'For-Yu') is a bright and clean pension style guesthouse located near the Akakan (Akakura Kanko) Resort ski lifts. Run by the friendly Yu-san and Shige-san, a popular local couple, it is an ideal choice for skiers on a budget or those looking for a Myoko long stay. This small friendly guesthouse is about 5 minutes walk from the Akakan ski lifts.
Shuttles to other nearby ski resorts in the Myoko area can also be arranged. Read reviews for Petit House For You, Myoko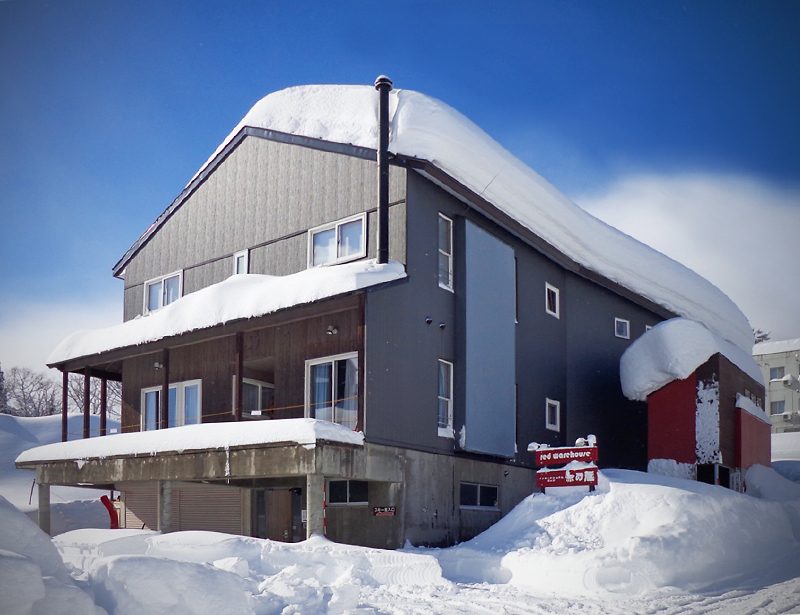 Red Warehouse in Akakura Onsen, Myoko is a family ski lodge with communal self contained facilities right in the heart of the ski village. The lodge is friendly Australian ski club style but with a Japanese twist. Red Warehouse family ski lodge enjoys a suberb, almost ski in, location in Akakura Onsen, Myoko Kogen, just off the main street. It's a very short walk to restaurants, shuttle buses and
ski schools/rentals yet only less than 3 minutes walk/ski to the ski lifts. There is a large communal living area with a pot belly stove fire and communal kitchen. A kids play area and games room/mini-theatre are available in the basement. Free wifi throughout.
Canadian House is a popular Myoko pension that offers both western & Japanese style Myoko budget accommodation. It is conveniently located between Myoko Kogen and Akakan Ski Resort with an English speaking host. Ski hire available & collection from Myokokogen Station can be arranged. Prices start from only 2,500 yen. See reviews or
map to Canadian House, Myoko
The Hotel Moc boasts a fantastic location right opposite Akakan Ski Resort. There are twelve semi-Japanese and three Western style rooms. The hotel amenities include washer/dryer, internet access & a ski rental shop. The hotel is only ten minutes drive from Myokokogen station. A complimentary shuttle bus from the station is also available. Check Hotel Moc ratings and reviews
Hotel Silverhorn
The Hotel Silverhorn offers a superb location right across the road from the Akakan Ski Resort Sky Gondola station. It is also an easy walk to the Akakura Ski Village.
Read Hotel Silver Horn reviews
The homely Akakura Yours Inn is only five minutes drive from Myokokogen station and only a short distance to Akakan Ski Resort. Mine host Ogasawara-san is a well known local identity and will happily share his in-depth local Myoko knowledge.
See Akakura Yours Inn reviews
Find the best deal, compare prices & read what other travelers have to say about Akakan Ski Resort hotels
Akakura Villa Mon Repos is located at the bottom of the Akakan Ski Resort slopes and the rooms offer a marvelous view of the Myoko landscape. Ski-in, ski-out. The hotel cuisine uses local ingredients from the mountains and sea is highly recommended. Group reservations available!
See map and reviews
Need a place to stay? Check out these establishments below and many more at our Akakan Ski Resort accommodation guide and map