Madarao Kogen Ski Resort (斑尾高原スキー場 or a.k.a. Madarao Mountain Resort) is a unique bowl shape resort with 22 separate courses best suited to intermediate skiers and snowboarders, but there is some terrain for beginners and some fairly steep runs for advanced skiers and snowboarders.
There's a lot to see and do on the mountain, but you'll easily be able to explore all it's runs in a full day. Despite typical Japanese lift infrastructure geared to on-piste skiers accessing the lower slopes, you can still access most areas without too much traversing and upload reasonably efficiently.
Must read for Madarao Kogen Ski Resort: Madarao Ski Resort – Places you should ride in Myoko
Check accommodation in Madarao Kogen: Madarao Kogen Accommodation: Hotels, Pensions, Inns
Madarao Kogen Ski Resort, Myoko Kogen
Madarao Ski Resort: About
Mt. Madarao reaches a height of 1,382 meters tall and has 16 lifts, all of which are free for overseas children 12 and under. The common consensus is that this resort is usually uncrowded during weekdays with a good selection of runs, some nicely groomed trails (although 60% of the courses are ungroomed), and there are also very impressive views of Mt Myoko on a clear day. Madarao Kogen Ski Resort is quite near to Nagano City as well as the resorts in Myoko and Nozawa Onsen.
Two new courses were built at Madarao Kogen in 2009. Specifically constructed more for advanced skiers and snowboarders, the 'Air Wave' and 'Usagi' (rabbit) courses are ungroomed courses. Air Wave boasts moguls, opportunities for 'air' and tree runs – a powder snow paradise. The Usagi is bit easier so more suited to those looking to try out ungroomed areas without getting into too much difficulty. There was yet another new tree course for the 2013/14 season (see video) known as Powder Line. For more details see this Madarao ski page.
Madarao-Kogen is connected to Tangram Ski Circus Resort at the top of the mountain and a joint ticket is available to let you ski or snowboard both.For those wanting to step outside the resort, backcountry access is available through the top gate. There are also plenty of options to ski back into the resort for lift-accessed sidecountry fun. Backcountry ski tours in Madarao Kogen can be booked via Nagano Outdoor Sports.
For anyone wanting to ski with young families, there is also childcare and a kids park available. Next to the kids park, Restaurant Tyrol has a kids room and other child services available. Lift and food prices are reasonable, plus there are discounts for seniors over 58 yrs old.
Like many Japanese resorts, Madarao offers night skiing on weekends. They also host New Year's Eve nightskiing and fireworks, and a Dondoyaki Fire Festival in early January.
There are various food options on the mountain including a large cafeteria offering moderately-priced food from ramen to hotdogs and tap beer, a convenience store and several small eateries.
Madarao Kogen Ski Resort: Stats
Longest Run: 2,500 metres
Half Pipes: Yes
Child Care and/or Kids Park: Yes
Cross-country available: Yes
Elevation: 1,350 metres
Vertical Drop: 440 metres
Terrain Parks: Yes
– Giant Course (Freeride Park) – table top, 1/4 pipe, hip spine, rail, box, kicker, hip
Madarao Ski Area: Ski Runs & Trail Map
Lifts: 16 Trails: 22 (Beg:30% Int:45% Adv:25%)
Lift Ticket Prices 2015/16
Area Pass (valid only for Madarao Kogen Ski Resort)
Tangram Lifts are not included on this pass. Customers who plan on using the Tangram lifts should purchase the Mountain Pass.
Type of ticket
Adult
Senior(over 55)、
Junior and senior high school students
Kids(under 12)
Single Lift
400 yen
400 yen
300 yen
4 Hour Pass
3,900 yen
3,200 yen
Not set
Valid from 4 hours of purchase time
1 Day Pass
4,500 yen
4,000 yen
1,500 yen
8:30 – 17:00
2 Day Pass
8,100 yen
7,100 yen
2,500 yen
3 Day Pass
11,900 yen
10,100 yen
3,500 yen
Afternoon + Nighter Pass
4,800 yen
4,000 yen
Not set
12:00 – 21:00
Nighter Pass
1,800 yen
1.600 yen
Not set(Included in 1DayPass)
17:00 – 21:00
Afternoon+Year-end Nighter Pass
5,500yen
4,700yen
Not set
12/31(New Year's Eve)12:00-24:00
Year-end Nighter Pass
2,500yen
2,100yen
Not set
12/31(New Year's Eve)17:00-24:00
Mountain Pass (valid for both Madarao Kogen Ski Resort & Tangram)
Type of ticket
Adult
Senior(over 55)
Junior and senior high school students
Kids (under 12yo)
Mountain 1 Day Pass
 5,000 yen
 3,000 yen
8:30 – 17:00
(Cannot be used during "Nighter" hours).
Mountain 1 Day Pass
Add 500 yen to Area pass
Mountain 2 Pass
Add 1,000 yen to Area pass
Mountain 3 Pass
Add 1,500 yen to Area pass
Madarao Kogen Ski Resort: Contact
Phone: 0269-64-3214 | Website
Madarao Kogen Ski Resort: Access
Nearest station: Thirty minutes by bus, car or taxi from Iiyama Station. The Madarao shuttle leaves from Stop 5. Check train directions to Nagano and Iiyama from Tokyo and Osaka here.
Catch a Dentetsu bus from Nagano Station: Nagaden Bus runs two express buses to Madarao Kogen from JR Nagano Station each day and return during winter from the East (Higashi) exit of Nagano Station (Bus stop 3 or 4 – check map). Adult fare is 1,400 yen and child over 5 is 700 yen (reservations are needed). Nagaden also run services from Nagano to Nozawa Onsen via Iiyama. Check here for timetables. Costs per person on this service is also 1,400 yen one way. Travelling time is approximately 80-90 minutes, no reservation is needed.
There is a Nozawa Onsen – Togari Onsen – Madarao Kogen shuttle for those staying in or visiting Nozawa Onsen.
Madarao Ski Resort: Access Map
Tokyo Ski Buses to Madarao Kogen Ski Resort
Between December and April Travex runs a ski bus service direct between Shinjuku (Tokyo) to the Madarao ski areas. The cost for both services is also 4,000 yen one way or 7,500 yen return.
Madarao Kogen Ski Resort: Snow & Weather
Madarao Kogen Ski Resort: Webcams
Click here for more local web cams
Madarao Kogen Ski Video – New Tree course in 2013/14
Cool Madarao Powder video
Madarao Kogen & Tangram Accommodation Map
View a larger Madarao, Tangram & Iiyama Hotel and Accommodation Map
Madarao Kogen Ski Resort: Accommodation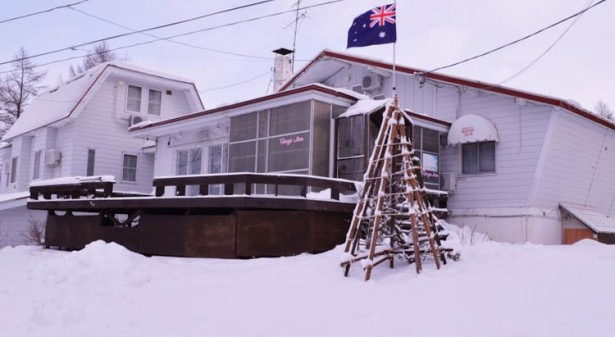 Ringo Jam Pension, Madarao Kogen
Pension Ringo Jam in Madarao Kogen has been introduced on Japanese TV and in magazines for its hospitality, original cooking and unique facilities. The pension is famous for the original apple jam that the owner chef has been making over 26 years. Dinner is available with a mix of Japanese and Western style dishes. Family members are former ski champions and the lodge offers both equipment rental and ski / snowboard lessons. Discounted lift passes are available at reception. The owner might be able to take you out to other snow resorts or sightseeing spots such as the Snow Monkey Park (subject to availability). Contact us for more details and/or a quote.
See more info on this Madarao pension or book Pension Ringo Jam in Madarao Kogen now!

Bergland Madarao Pension in Madarao Kogen
Bergland Madarao is run by the friendly Yamada-san (former head of the local tourist association) and his lovely wife. It is only 8-10 minutes walk from Madarao Kogen Ski Resort but free pick up and drop off is available. Bergland features free wi-fi throughout and the western style rooms have heating/air conditioning facilities, carpeted floors and a TV. Each room comes with a private toilet but bathrooms facilities are shared. See reviews. Contact us for more details and/or a quote.
See more info on this Madarao pension or or check Madarao Bergland vacancies online now!
Click here to see FIFTEEN more places to stay near Madarao Kogen Ski Resort
While skiing don't forget to visit the ski-jump toilet in the Heidi restaurant. This attention-grabbing toilet, which include a pair of skis printed on the floor, are designed to provide their target customers an 'extra thrill' as they take care of personal ablutions.

Ski jump toilet at Madarao Kogen Ski Resort
Georgia Max Coffee chose to redesign the toilets of a number of key ski resorts in Japan. The cubicles were fully wrapped on all sides, so that the person caught short would have a ski jumper's view when they were sitting on the loo. The person could look down at their skis (simply printed on the floor of the cubicle) and see the steep ski jump slope ahead of them. The toilet paper holder carried the only brand messaging in the cubicle, reading: "Seriously kick-ass intensely sweet for the real coffee super zinging unstoppable Max! Taste-explosion!"